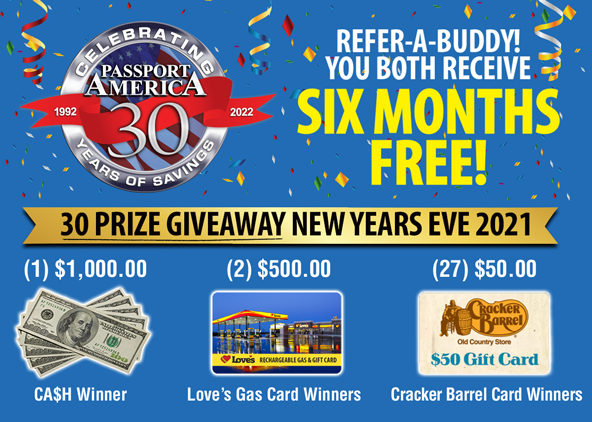 In celebration of 30 Years of Savings, we are kicking off our 30th Anniversary with a Special Member Referral Program. Refer-A-Buddy NOW through December 31st, 2021 and for everyone who signs up using your name and Member ID number YOU get an additional SIX MONTHS FREE AND $10.00 CASH! Plus, your buddy will receive an additional six months free added to their card, compliments of you.
Every referral is an entry for a chance to win 30 PRIZES that include $1,000.00 CASH, (2) Love's $500 Gas Cards, and MORE! Winners will be announced on Facebook December 31st to ring in the New Year of our 30th Anniversary Year!
Click Here to send an email to your buddies and fellow campers, or have your buddy Sign Up Online Today at www.camp4less.com. For faster service, call us at (800) 283-7183. Make sure they have your Id Number when they call! Don't forget, ALL of your $10 referral credits will come to you in the form of a check at the completion of the referral program.
Special Bonus Program Expires: December 31st, 2021
*Once a member is entered into our database, we cannot add or change the referral code. Members cannot join with two different referral codes. Offer not valid through 3rd party partners and cannot be combined with any other offers or referral codes. Must be a valid member in good standing to qualify for cash prizes and giveaways.